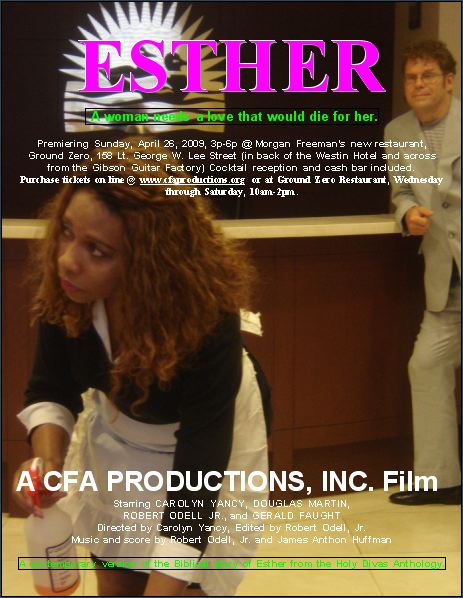 With the logo: "A WOMAN NEEDS A LOVE THAT WOULD DIE FOR HER!", "ESTHER " is CFA Productions' 4th feature length film.
Adapted from the Biblical account of the Book of Esther, our movie is a contemporary version of the Biblical saga.
Set in the 21st century, "ESTHER" tells the story of a strong woman who overcomes formidable odds to avert the mass murder of a people; and, as a result, becomes involved in an interracial romance with a wealthy CEO.
"ESTHER" stars some of CFA Productions' finest talent: Douglas Martin, as Alexander Hausman; Gerald Faught, as Haman Aguard; Christy Hamilton, as Zeresh Aguard; Robert Odell, Jr.; as Mordecai Hamlin, Carolyn Yancy, as Esther; as well as a host of other great CFA Productions' actors.
"ESTHER" is scheduled to premiere, Sunday; May 10, 2009; 3p-6p, at Morgan Freeman's new restaurant, Ground Zero, 158 Lt. George W. Lee Street; Memphis, TN 38103.
The show will include a two-hour run of "ESTHER", along with a cocktail reception of hors d'oeurvres and a cash bar. Admissions: $15 ($12/Children 11 and under)
Purchase your tickets today for the premiere of "ESTHER", by clicking on the "Buy Now" below!
To view a Trailer of "ESTHER", click here!
***Click here to view a romantic dinner scene from the movie, "ESTHER",
---
| CFA PRODUCTIONS, INC. TALENT AGENCY | CFA PROUCTIONS BOOKING AGENCY | ESTHER | 'THE WIZ' | 'THE TEMPTATIONS' STORY' | 'A RAISIN' IN THE SUN' | PHOTOS OF MODELS IN FASHION SHOWS | SLICK | ESTHER TRAILER | 'TAKE ME BACK TO BEALE'-TRAILER BOOK I | 'TAKE ME BACK TO BEALE'-TRAILER BOOK II | 'TAKE ME BACK TO BEALE'- BOOK III (TRAILER) | GAMBLING SCENE FROM 'TAKE ME BACK TO BEALE | VIDEOS OF CLASSES AND FASHION SHOWS | SCENE FROM THE MOVIE, 'ESTHER' |
---
| CFA PRODUCTIONS, INC. | PORTFOLIO OF CAROLYN YANCY-GUNN |
---
| Return Home | What's New | Events Schedule | Our Services | On-line Catalog | Great Links | FAQ Page | Contact Us | MOVIE-TAKE ME BACK TO BEALE | STUDENT SUCCESS STORIES |